A Flight to Remember
My tryst with the aerostructures industry began in 1978, when I became an apprentice at British Aerospace. Little did I know back then, that this journey would take me far from my home in Manchester to Australia and many other places all over the world, eventually leading to a productive stint with the Mahindra Group, helping build and grow their Aerospace initiatives.
Take-off: Manchester, UK
After doing my time as an apprentice, learning the basics of aerospace manufacturing & assembly, I began the next leg of my journey in 1983. New to the industry, hungry for growth, I decided to leverage my experience at British Aerospace to start my own company. This venture kept me busy on aerospace shop-floors and aircraft hangers in the UK and Europe for the better part of a decade, and also yielded rich experiences with big industry names in Norway, Denmark, and the Netherlands. But all through those six years, I kept yearning for my childhood dream — to one day move to and settle in Australia — a dream that would eventually come true in March, 1989.
My trans-continental flight
I travelled to Australia and did all I could, to learn about the local aerostructures industry and how it operated. What followed were several meetings with aircraft and aerospace manufacturers; I soon discovered an opportunity that I could capitalize on.
In the 90s, aerostructures companies across the world depended on permanent employees to keep their factories running — and Australia was no exception. This was an onerous affair for these companies, and I sensed I could offer an alternative to significantly bring down their manpower expenses, while reducing the burden on their administration. This insight propelled me to set up Aerostaff Australia in March, 1990, a new company that could provide skilled manpower, on contract, to companies as per their needs.
It soon became evident, both to me and to my customers, that the logical next step was to provide still more value by keeping the people with me, and doing the work offsite. Several big hitters in the Australian aerostructures industry saw the benefits my value-proposition could give them; one of the biggest being the government-owned ASTA components facility (now Boeing Aerostructures Australia) in Port Melbourne, Victoria. So much so, that Aerostaff set up its operations right next door to their facility — a small shop in one of the old buildings left over from WWII days, but a location that enabled a dynamic delivery service, literally minutes away from the customer.
Over the next 15 years Aerostaff saw exceptional growth and success. ASTA's backing got us into the boardrooms of global giants such as Lockheed Martin and Boeing in the USA, and our freshly minted AS9100 quality status helped us with many other wins. We forged a joint venture with Cyclone Manufacturing in Canada, bagged a manufacturing contract with Magellan Canada to make parts for the Boeing 737, and even won a components contract for the American F-35 Joint Strike Fighter.
Looking back, it feels like these milestones were predestined building blocks of what we could offer to a group as innovative and aspirational as Mahindra.
Attaining a new cruise altitude
In 2007, I joined an Australian delegation to India's biennial air show, AeroIndia. Among the fellow Aussies on the trip were my soon-to-be business partners GippsAero. It was my first visit to India, and that turned out to be quite an eye-opener — not to mention a game-changer for me and Aerostaff.
Opening day at the airshow was an education. What seemed like hopeless chaos the evening prior, was ready, functioning and grandly so the next morning. This surprise showcased what I saw many times with India — things can happen (literally) in the blink of an eye, and if there is a will — the way will be found!
During various meetings at the show we met several Indian business entities, ranging from small proprietary start-ups to large industrial groups like Mahindra. I also had a chance to meet earlier acquaintances who were expats in India and learn about their experiences with the fledgling industry there. These meetings and conversations led to reciprocal visits to Australia and further conversations to explore potential synergies between businesses.
The rest as they say is history.
Mahindra acquired my company as well as GippsAero — and never again did I have to explain my entrepreneurial & manufacturing background, or introduce Aerostaff located on the 'other side of the world' to a prospective client.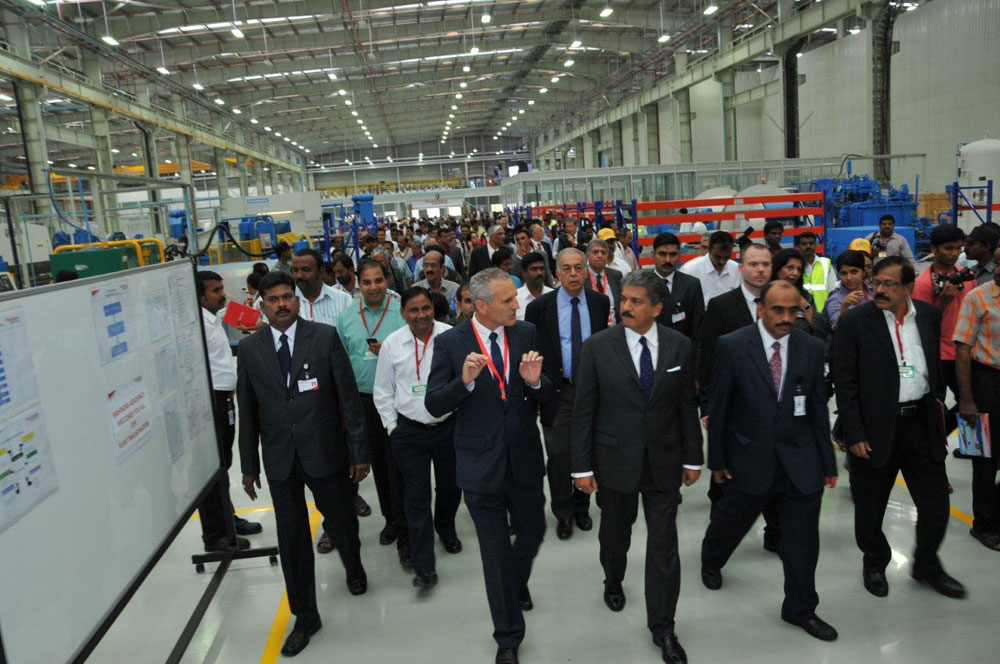 Flying Solo to Flight Crew Member
As part of the acquisition of Aerostaff by Mahindra, I would work with Mahindra's Aerospace strategy team as well as their GippsAero operations in Australia. This included efforts directed towards optimizing the manufacture of GippsAero aircraft in Australia and helping build a full-scale aerostructures manufacturing capability in India.
The engineers and technicians I met during my frequent visits to India turned out to be refreshingly positive, eager to learn, and ever willing to put in hard efforts. This attitude, along with newly supportive government policies and competitive labor costs, offered an appealing value proposition to manufacture components for the global market, out of India.
After being a Solo Pilot all these years, I now found myself part of a wildly-ambitious crew in the fledgling Mahindra Aerospace. Fuelled by our combined aspirations and sense of business potential, I joined this crew to pitch a daring proposal to the Mahindra Group leadership team in 2012, where we presented our business case and requested the Group to fund a $65 million facility in Bangalore!
It took Mr Anand Mahindra and his team all of ten minutes to greenlight this proposal.
That was personally a high point for me — never before had I seen such swift decision making on investments of this magnitude, that too for a business in this industry that takes many years to mature and reach profitability.
I was in for more pleasant surprises thereafter. We procured land near Bangalore, and started building a 25,000 sq mt facility. In one visit to India — I would see a small country lane and mango orchards. On the next trip, a few months later, it would be a 4-lane highway with facilities like Scania and Honda coming up around ours.
We were also recruiting and training skilled staff during facility construction and sent them on structured trips to learn from the best — by tying up with OEMs and Tier 1s in Europe to conduct training programs that could be replicated in India.
In October 2013, our Bangalore facility was inaugurated by Mr Anand Mahindra with a select group of global industry invitees. We were ready to take on the world — and I was ready to take on a new role as Director, Business Development — Aerostructures within Mahindra Aerospace.
Round the world — and back again
At this point I had spent nearly 25 years away from the UK. My new role required me to engage often, and usually at short notice, with key customers and partners in Europe and North America. Acknowledging that Australia was not the best base for me, I took the call to move my family back to 'sunny Manchester' in the UK.
My wife and I were natives returning home, but our three children were Aussies born-and-bred. With a little help from our families and friends, and a lot of effort and motivation by the kids — we had to adjust to our new life.
The kids got busy spreading their own wings in a new environment, while I discovered that my past UK experience selling sheet metal components in the '80s was really no preparation for what I was going to encounter!
With the strength of the Mahindra Group behind us, and our new global-standard manufacturing capabilities in India, I found doors opening that would have been unthinkable back in my earlier time in the UK. On the other hand, my experience and track record working with renowned aerospace brands in Australia, and newly enabled physical proximity to manufacturers in Europe, became key enablers to helping us secure several large contracts.
Today all this is a done deal. It is a given that aerospace components can be produced in 'Best Cost' countries to mutual advantage to supplier and customer, and it is a matter of personal pride that Mahindra Aerospace is fully prepared to meet their needs. With advanced capabilities and in-depth technical know-how, Mahindra offers a one-stop solution that is as convenient as it is cost effective. And that's not all — with strong investments in upgrading to 'Industry 4.0' technology, Mahindra is poised to offer a lot more to its customers in the coming years.
Setting course for yet another journey
As I write this, my life is at the cusp of yet another change. Having seen the fledgling Mahindra Aerospace leave its nest and stretch its wings — and also having returned home to Manchester — my family and I have decided to start a consultancy firm to pool our resources and pursue common business interests from a base in the UK. Mahindra Aerospace remains a huge part of these interests of course, and I consult frequently with the senior management and operating teams on initiatives of interest.
Till we meet again, I wish you blue skies and soft landings! Do let us know your thoughts and comments on my journey so far.